Report from the administrative meeting and from the private meeting of the team
École Française de Rome – Piazza Navona, 62 – 7th December 2016
On Wednesday 7th December, the third and final day of the first PerformArt 2016 meeting, the project team actively participated in an administrative meeting which was held from 9 a.m. until 11 a.m. in the conference room of the École Française de Rome. The meeting was attended by staff from the EfR (Monique Zimermann, Pascale Garcia, Francine Gewiss) and from the CESR (Hervé Landuré), together with Anne-Madeleine Goulet (Principal Investigator) and Michela Berti (academic activities coordinator). The meeting illustrated the procedures for the management of research instructions, for participation in academic activities and for the production of relevant documents as well as any supporting documents. Questions were raised for which the speakers offered explanations and practical insights.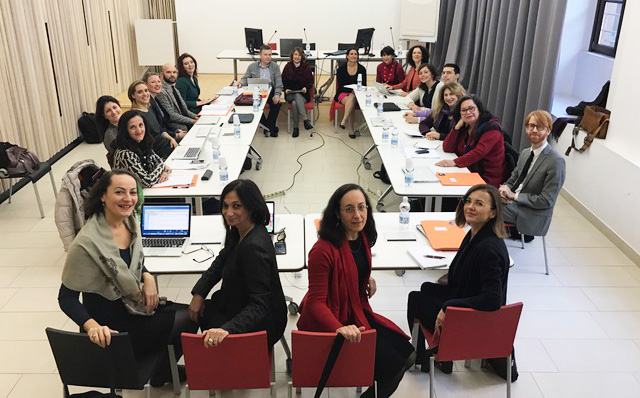 A short break followed, from 11.15 to 12.30, allowing an exchange of ideas and perspectives amongst the collaborators in the project. An initial tutorial followed on the input of data into the PerformArt platform, with the assistance of Foucauld Pérotin who developed the database for the project. The data was made available by archivists Orsetta Baroncelli and Marco Cavietti.
The meeting ended at 2 p.m. with a photo session for individual members of the team.
After the lunch break, until 17.45, individual meetings took place with some members of the team (Emilie Corswaren, Letizia Leti, Gloria Giordano, Valeria De Lucca, Cristina Fernandes, Sara Stangalino Elisa, José María Domínguez) who discussed their own research projects with Anne-Madeleine Goulet and Michela Berti in the light of this first PerformArt meeting.
Giulia Anna Romana Veneziano